Freeload... meet Pugsley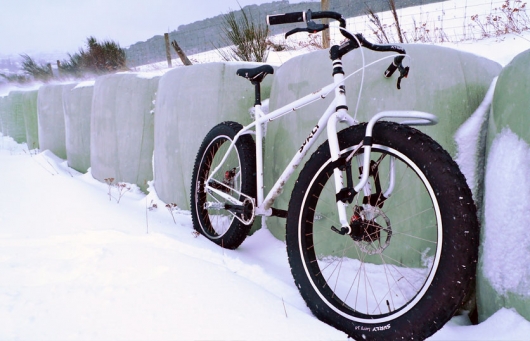 For those of you un-familiar with fat-bikes - these are true all terrain bicycles, designed around 3.5" + tires which can be run at super low pressures. This gives you unbelievable traction and floatation, making it possible to ride over terrain and surfaces you previously thought impossible.
Thanks to David and Aaron at Velo-Ideale who loaned us this Surly Pugsley, today I had my first taste of what is achievable on one of these machines. Fortunately (for me) we had a bit of a cold snap here in Dunedin over the last couple of days, and turned the city and surrounding hills into a virtually car-free playground for a few precious hours.
I'll admit to being a little sceptical initially about the bikes potential, but after a little first-hand experience I'm a convert... now I can't stop daydreaming about all the places I could go, and how much fun it'll be...