freeloaders
We love to hear about what you get up to with our gear -
Send us
your photos and tales of adventure and we'll share them here. Of course these don't have to be epic journeys in remote locations, or super-human feats of endurance (though we like those too), we also like to see the types of things you're carrying in your daily routine, on picnics with the kids, or overnight trips into the back (or front) country.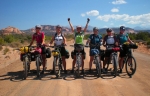 Bettina Younge and friends ride from Colorado to Utah via the San Juan hut systems: "We - 7 women with our bikes, 9 Freeload racks (6 rear racks, 5 with panniers; 3 front racks) - biked from Telluride to Moab over 7 days. We were incredibly lucky with mechanical mishaps …
read more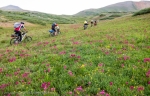 "This July eight of us with nine Freeload racks rode the San Juan Hut System - Durango to Moab route. All nine racks made it through with only one minor (operator error) problem. We lost a bolt and nut that hadn't been tightened properly on installation. We were able …
read more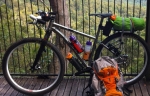 "The Freedom Challenge is a 2300 km Ultra Endurance MTB event that takes place during the heart of the winter in South Africa. During the event you need to carry all your own clothing, spare parts, toiletries, food for the day and emergency supplies. No GPS allowed, so you'll …
read more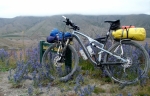 Chris Gilbertson just finished his second Kiwi Brevet, and sent us this photo and glowing testimonial - thanks Chris : ] "Hey there freeload team, just want to give you guys a massive high five for design such a quality rack.......I have just completed the kiwi brevet and the racks …
read more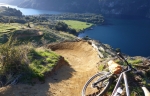 My brother Jimi is building a suspension bridge in Chile at the moment, and sent us this photo of his commute home from work... awesome bro. Nice work if you can get it!
read more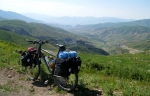 Iain Ritchie sent us some great images from his recent trip, along with this note: "... your product was very successful and worked perfectly in very difficult terrain in Armenia. A very mountainous country with rough roads leading to 3000m passes. The Freeload system was put to the test and came …
read more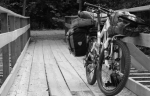 Mike Cowlin is a fellow kiwi who emailed us with this request to help him out with a trip he had planned: Hi guys I have just recently purchased one of your tour racks to hitch up to the rear end of my Giant Reign. Against all sane advice from more seasoned and …
read more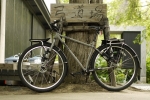 Rob Thomson is a Kiwi, living in Japan, where he is a Masters student at the Graduate School of International Media and Communications in Hokaido. Rob is also a 'hard-end' user in the human-powered transport community, having undertaken a 12 000km bike journey across the Eurasian continent. He also happens to be the …
read more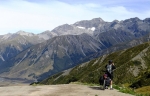 Nga Haerenga - The New Zealand Cycle Trail network are a series of 18 'Great Rides' that will take cyclists through some of New Zealand's most iconic and picturesque country. Nga Haerenga - meaning 'the journeys' in a physical and spiritual sense - is a New Zealand Government project …
read more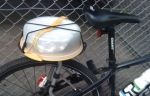 "We had the Biggest Morning Tea at work yesterday, a fund raiser for the Anti- Cancer Council. The Lemon Syrup Cake arrived still in one piece after my commute through the inner city traffic. Not sure if you designed it with round Tupperware cake containers in mind…but it works."
read more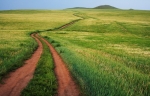 "It has long been a dream of ours to cycle from Moron to Moron. Back in 2000, we first noticed that there were two towns in Mongolia, both called Moron (or Mörön, or МӨРӨН). Ever since, a single question has burned in our hearts and minds. How could we …
read more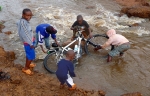 The annual Tour d'Afrique is an 11,718 km bicycle expedition and race from Cairo to Cape Town. It features 94 stages race broken up into 8 sections. It includes 22 rest days, 2 untimed stages, and 2 days of travel across Lake Nasser for a total of 120 days. The …
read more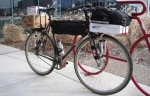 Dave Gray is a designer of bikes and components for Surly in Minnesota. We met at Interbike in Las Vegas back in 2009, and since then Dave has been finding all sorts of uses for his racks... and testing them on more bikes than you can shake a stick at He's …
read more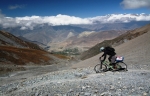 "Michi and I have just returned from Nepal where we followed the Annapurna Circuit on our 29ers. Quite a bit of carry early on, but once we got above 3000m the tracks opened up and were just amazing. The highlight for me would have to be the descent from …
read more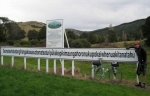 "30 hours door to door, 15 hours day one (13 hours riding), 290 km, 8 hours day two (7 hours riding), 130 km, 7 hours mid-ride rest and sleep, 1 hour fog, 7 hours sun, 3 hours overcast, 5 hours rain, 7 hours darkness, 40km state highway, 30km urban …
read more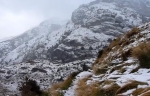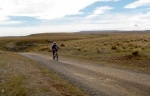 "Another year has rolled around and it was time for me to spend some time in the South Island. This time it was for nearly 2 months along with my wife Sue and friends Jo and Dave from the UK. This trip was not solely about mountainbiking, the first part …
read more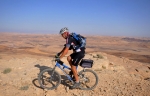 "I used the Freeload rack on the rear of my Turner 5.Spot for the last 5 days (out of 9) of the Trans-Israel journey. It performed perfectly in the toughest desert rock gardens, and in both technical ascents and descents. Freeload rack helped me complete each of the 5 days …
read more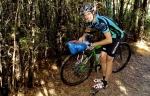 "My Freeload rack performed exceptionally well in the Kiwi Brevet. It withstood 4 solid days of abuse without a whimper. Running a 35L dry bag with up to 12kg of gear, there was none of the shifting or failure of other racks, some of which required MacGuyveresque repairs to …
read more