Ollie and Michi in Nepal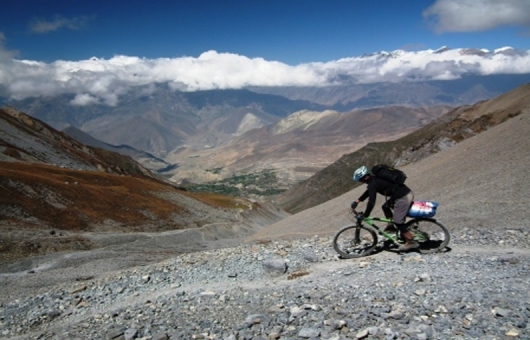 "Michi and I have just returned from Nepal where we followed the Annapurna Circuit on our 29ers. Quite a bit of carry early on, but once we got above 3000m the tracks opened up and were just amazing.
The highlight for me would have to be the descent from Thorong La Pass at 5416m. Almost 1800m descent down some crazy steep switchbacks, all with beautiful peaks and distant villages as backdrops.
Our Freeloads worked very well despite a sound thrashing on some brutal terrain (heaps of steps). Mine only slipped once and on tightening it didn't move again.
Michi had a slight issue with overtightening one of his straps and breaking it, but the great thing about your design is that we were able to repair it with some webbing from a spare strap we'd brought. "
Read Ollie's full report on his blog
here.