Mike's Great Divide tour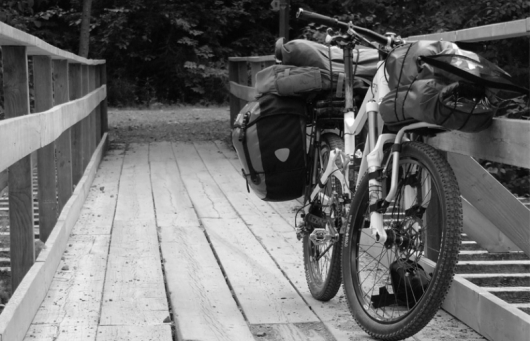 Mike Cowlin is a fellow kiwi who emailed us with this request to help him out with a trip he had planned:
Hi guys
I have just recently purchased one of your tour racks to hitch up to the rear end of my Giant Reign. Against all sane advice from more seasoned and experienced bike tourers that have done it...some in as little as 22 days, I am going to be using my beast to hit up The Great Divide. There is a purpose to my insanity though. I like downhills, and with the US an BC being an all-mountain riders wet dream, with the likes of Whistler, Kamloops, Boulder and a plethora more places then i care to rattle off (but will care to ride), what better place to mix up long distance touring with the adrenaline of epic trails and lift assisted downhill parks! Your racks have opened up the possibility for me taking this epic journey.
But after having a test load up last night it came to my attention that one rack is not going to be enough for all the gear that I'll need to shred and party it up at whistler's Crankworks and live by camp for two months on the trail. So out came the credit card just moments ago for another rack and side frames. But as you can imagine...funds are tiiiiight. Thus the proposal....
I leave in just over a month, and had planned to set up a blog to chronicle the mission. If this sound like something you guys would like to help out with by way of a hook up with this extra rack I could write directly onto your guy's site!
Now I'm pretty sure I'm probably not the first person you've had asking for sponsorship to hit up the Great Divide. But what better way to showcase the rack across a range of mutilday-ers in BC, the multi-month-er of the Divide, as well as showcase how quickly you go from shredding A-line on whistler to hitting the road on bike with all your gear on the next gravity fed adventure!
If this sounds at all like something you guys would be keen to explore let me know. If not, then at least I tried and ill still sell my left testicle to pay for that extra rack!

How could we possibly say no?
You can follow Mikes adventures on his blog
here.