Interbike 2009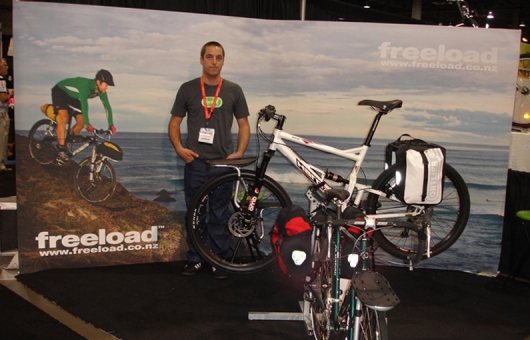 First held in Las Vegas in 1982, Interbike is the biggest bicycle tradeshow in the US.
We figured it to be as good a venue as any to introduce Freeload to the world.

Armed with an ingenious collapsible display (designed to sneak in under airline luggage restrictions) a big blue calculator, and a whole suitcase full of hopes and dreams, we set off from Dunedin... planning to rendezvous with Alex our manufacturer in Las Vegas and collect some shiny new racks to display proudly to the cycling world.

We quickly transformed our 3 x 3m booth into a little slice of NZ, and in true form, Alex arrived at our site just in time with two boxes of partially assembled racks fresh out of the factory. Whew!
With the addition of a pair of bikes very kindly arranged by Jeff from Ortlieb USA we were set.

Four days later, we found ourselves a little wiser about the bicycle industry, pretty confident that we had an innovative and desirable product, and a box bristling with business cards ranging from the CEO's of industry giants, through to shady one-man distribution outfits from the back of beyond.

A vague plan for World domination starting to hatch in our brains, we packed up our banners and trade show booty and headed home.
Time to get down to business.